Le vendredi 20 août lors de la 1ère étape du Baltic Chain Tour (2.2) sur une distance de 163.4 kms à Tallinn (Estonie), sprint massif pour 74 coureurs avec une victoire Suédoise devant le Néo Zellandais Laurence Pithie (Conti Groupama FDJ) et 39ème Hugo Page (Conti Groupama FDJ).
Au général Hugo est 11ème après avoir glané une seconde an prenant la 3ème palce du 2ème sprint intermédiaire.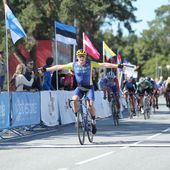 Baltic Chain Tour started with the victory of the Swedes
Linus Kvist, a representative of the Swedish National Team, won the 164.8 km opening stage of the Baltic Chain cycling tour, which started on the 30th anniversary of the re-independence of the ...
https://balticchaintour.com/baltic-chain-tour-started-with-the-victory-of-the-swedes/